Suizhong Beach
0 Comment(s)Print E-mail China.org.cn, July 7, 2011
Suizhong Beach is a wonderland which comprises a coastline of 75 kilometers with beautiful, broad beaches and crystal-clear waters. [becod.com]
Located at the Qiansuo Town of Suizhong County, Suizhong Beach is a seaside resort on the border between Heibei and Liaoning provinces. This wonderland comprises a coastline of 75 kilometers with beautiful, broad beaches and crystal-clear waters which provide an ideal bathing place. The Suizhong Hydraulic Power Plant and Shougang Group Sanatorium are also situated at the Qiansuo Town. Far away from the city's hustle and bustle, what you can enjoy here is the gentle sea breeze, authentic Northeastern Chinese cuisine, fun of swimming and fishing, as well as rural tranquility.
Travel Tips:
Admission fees: Free
How to get there: Take the train from Huludao City to Shanhaiguan City, Hebei Province, and transfer to the bus to Qiansuo Town at the Shanhaiguan Bus Station. You may also take the long distance bus to Suizhong Hydraulic Power Plant at the Huludao Central Bus Station.
Send your stories
Get more from China.org.cn

Mobile

RSS

Newsletter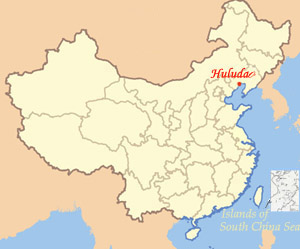 Agenda
Organization
◆ Directed by:
• China National Textile & Apparel Council
◆ Hosted by:     
• China National Garment Association
• CPC Huludao Municipal Committee
• Huludao Municipal Government
• Liaoning Economic & Information Commission
◆ Sponsored by:
• Liaoning Garment Association
• Liaoning Fashion Designers Association
• Xingcheng Municipal Government
• Xingcheng Swimsuit Industry Association
◆ Supported by:
• China Knitting Industrial Association
Copyright © China.org.cn. All Rights Reserved E-mail: editor@china.org.cn Tel: 86-10-88828000 京ICP证 040089号