Longwan Seaside Resort
0 Comment(s)Print E-mail China.org.cn, July 7, 2011
The pleasant climate, fine sandy beach and inviting waters make Longwan Seaside Resort a dreamed-of attraction for vacationers. [lb.nen.com.cn] 
Spanning across the Xingcheng City and the Longgang District, Longwan Seaside Resort stretches for more than 3,000 meters with a width of 80-100 meters. It has been listed as one of the National AAAA-Class Scenic Spots. The resort consists of the bathing beach, recreational zone, shopping area and gourmet square. The pleasant climate, fine sandy beach and inviting waters make it a dreamed-of attraction for vacationers. Tourists can climb onto the Sea View Pavilion on the hill northwest of the bay to indulge in the stunning views of the sea which merges with the sky in the distance, or walk along the Sea View Corridor to enjoy the ever-changing landscape and soothing sound of the waves.
Travel Tips:
Admission fees: Free
How to get there: Take Bus No.1 at the Huludao Railway Station, and get off at the Longwan Haibin Stop.
Send your stories
Get more from China.org.cn

Mobile

RSS

Newsletter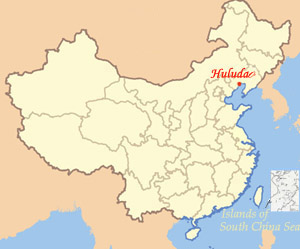 Agenda
Organization
◆ Directed by:
• China National Textile & Apparel Council
◆ Hosted by:     
• China National Garment Association
• CPC Huludao Municipal Committee
• Huludao Municipal Government
• Liaoning Economic & Information Commission
◆ Sponsored by:
• Liaoning Garment Association
• Liaoning Fashion Designers Association
• Xingcheng Municipal Government
• Xingcheng Swimsuit Industry Association
◆ Supported by:
• China Knitting Industrial Association
Copyright © China.org.cn. All Rights Reserved E-mail: editor@china.org.cn Tel: 86-10-88828000 京ICP证 040089号